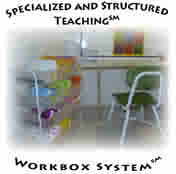 When:  Monday, September 8, 2014 from 7 to 9pm
Where:  White Plains United Methodist Church, 313 SE Maynard Road, Cary, NC
Special guest speaker:  Sue Patrick
Are you looking for a better way to organize your school day?
Would you like your children to be more independent in their daily work?
After a few years of teaching, are you just looking for ways to freshen up your day?
Our guest speaker will be Sue Patrick, creator of The Workbox System, which is "an effective teaching system designed to reduce your organizational time and increase your child's self-control, independence, and learning."  With this system, she shows us  how to teach our children more effectively and how to better organize our school day.  And, she has many terrific ideas on how to make our homeschooling environment fun and positive.
Come on out and learn new ways to organize, plan, and be ready to put a fresh spin on the new year.  The best part of her system is that it can be implemented right away with very little cost!  If you have heard her speak before (or have used her products), you know that you will walk away with a new sense of spirit and inspiration for enjoying your homeschooling experience. 
Please sign up on the Yahoo group database for attendance so we will know how many to expect.  Please visit her website for additional information:  www.workboxsystem.com.
Looking forward to seeing you there!